Meaning:
1. To 'roll with the punches' means to adapt to the hardships one may unexpectedly run into.
​
2. A boxing term that means to move one's body or head in such a way so as to decrease the force of impact of the opponent's incoming punches.
Example: I recently lost my job, one that I had for years. It feels odd waking up and not having to go to work. Even though I am having trouble right now, I'm trying to roll with the punches while I look for another job.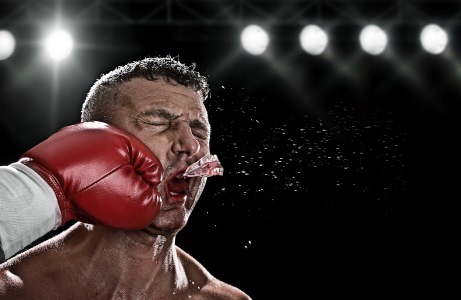 ---
The Origin Of 'Rolling With The Punches'
It's believed this phrase originates from boxing. 'Rolling with the punches' was, and still is, a boxing term. It refers to how boxers will often angle themselves in certain ways to help lessen the impact of incoming strikes. For instance, if an opponent throws a left punch, a boxer can 'roll' with it by moving his body and head back and to the left. As a result, even if the punch lands, it won't be quite as damaging as a full contact strike.
The earliest quote that I could find of this phrase is from the early 20th century. This example is from a newspaper called The Boston Daily Globe, 1903. The expression is used in connection with boxing, which is unsurprising given that it came from this sport. Anyways, in a part of the newspaper, a summary is given of a recent sparring match, and it reads:
"He repeated the blow a few seconds later and also clubbed Johnson on the cheek . . . Johnson allowed his head to roll with the punches and was not hurt. Johnson's round."
While the phrase remains as a boxing term today, it has also developed a figurative meaning where a person 'rolls' with the problems they might unexpectedly run into.
---
Example Sentence(s)
Taylor's car broke down on his way to work, so he rolled with the punches and called a taxi.
The sprinklers to Amelia's front yard were broken, so she decided to roll with the punches by using the hose instead.
---
Tip:
Want to read about more idioms? Know Your Phrase has the meaning of lots of
common phrases and sayings
, so search through our list to find more! What list? If you scroll to the top, there is a menu. You can't miss it! Choose a letter from the menu to find the phrase's list.
---